Heck Sauce is made from chemically concentrated capsaicin from Naga Vipers and Trinidad Scorpions mixed with cayenne pepper sauce. Our goal was to make the hottest possible food with a Scoville rating of 2+ million.
The peppers for this product were provided by a Florida grower, and we are using this to raise money for Puerto Rico. $2 from each jar sold will be donated to One American Appeal, a charity helping hurricane victims in their recovery from the devastating hurricane. We chose this group because 100% of the money goes to help hurricane victims, not administration or salaries. Their objective is to help restore power, clean water, and medical help to the people Puerto Rico.
UPDATE Oct 25, 2017: we have passed 500 sales, and we have made total donations of $1000, 10% of our goal. Thank you, everyone! Please continue to spread the word!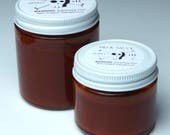 $12.25 USD
You can read the story behind Heck Sauce here.
NOTE: This is not a commercial product. This product is made and packaged by volunteers in an effort to send help to Puerto Rico. We are NOT a licensed food manufacturer, but we observe health and food handling rules required by the Utah County Health Department.
Ingredients:
Cayenne red peppers (for flavor)
Vinegar
Capsaicin extracted from various dried peppers (the hot part)
Water
Salt* (preservative)
Garlic powder (for flavor)
* We use salt as a preservative so that no refrigeration is required. Usually you don't eat a lot of this sauce, but anyone on a reduced sodium diet should be aware that it has salt.
The "spice" of capsaicin can be destroyed by cooking, so no heat was used in producing or packaging this product. It doesn't need to be refrigerated, but doing so will keep the product fresher and hotter for a longer period of time.
We are using a commercial food lab to produce the capsaicin so we can ship out thousands of bottles in a short period of time. This is the majority of the cost in addition to the jars and packaging. Family and friends are donating their time to package and ship this product. We would also like to thank the people at Best Service Marine (dba Best Service Electronics) for their help in running an online store.